Read the first part of Pinterest impact on Google
In this chapter I want to analyze how my Pinterest activities affected Google search results for specific keywords. I chose the most useful keyword for the SEO's purposes of lingerie wholesale company – "lingerie wholesale".
Additionally, I selected some other keywords related to the offer of Lingerose.com to show that my Pinterest campaign has also impact on them in Google.
I want to show my thoughts and observations based on research I did in each month. You will see here, month by month, how the website, the Lingerose's Pinterest account and included boards have been indexed by Google search engine.
I will compare how Google results were changed throughout the entire research. I will also describe what are the most probable factors that might affect SERP.
"Lingerie Wholesale"
Before I start my monthly analysis, I want to show the results of Lingerose's campaign for "lingerie wholesale" query in Google.
The site had been out of the first 20 pages before the proper Pinterest's campaign started (the 2nd of March 2013). After 2 weeks time, Lingerose jumped onto the 112th position. But it was just the beginning.
Lingerose reached the first top 2 positions in many countries around the world (including USA, Germany, Greece, Poland, Ireland, Italy, Netherlands, Brazil, France, Russia, Argentina, India, Malaysia, United Arab Emirates etc.).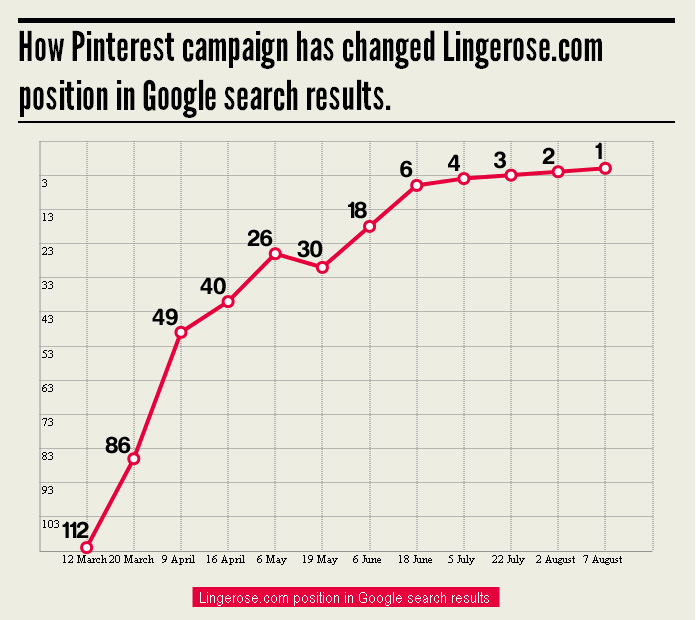 Above I present the graph how Lingerose.com position in Google were changed during the 5 months period of the Pinterest campaign.
After 5 months of the Pinterest's campaign I checked results in 68 different countries all over the world. Lingerose.com reached the following positions in Google:
the 1st position – 3 countries
the 2nd position – 49 countries
the 3rd position – 12 countries
Only 4 countries were out of the top 3 results! It gives an average of the 2,72 position in Google!
Additionally, Google search engine indexed the site and Lingerose Pinterest's boards on the very top of results for many other keywords associated with products and brands they sell.