It's summertime! Best time to get tanned lazing on the beach, but hold on – don't you need a beachwear that suit you perfectly? You need to feel well and comfortable as this guarantees you successful holidays. So you have to make a careful choice before choosing the right bathing suit. Remember that any beach is the place where you can't hide anything – yes, all eyes on you – or actually you can, but listen carefully as we offer you a great advice. Instead of chasing the latest beachwear trends, focus more on the right for your silhouette swimsuit cut. Don't worry we are going to tell you how to do it.
How to Choose Best Beachwear for Your Body Type
Below we present 5 of the most common figure types. Look carefully, find your one and follow the further instructions. Just a few clever tricks and you will look marvelous.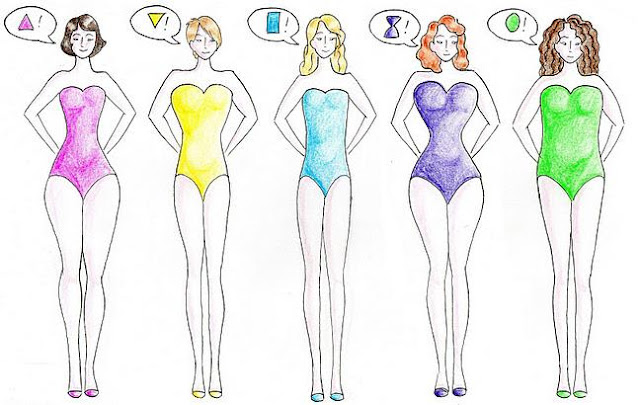 1 TRIANGLE – also known as a pier, for example Jennifer Lopez
– narrow shoulders
– fairly small breasts
– a flat abdomen
– slim waist and hips
– round thighs and buttocks
You have wide hips and your upper parts of the body are narrow.
Select a bra with spaghetti straps that will make your arms look a bit wider than they actually are. If you have a bust try push-up bra. What about the bottom? With this silhouette type the best result you get is wearing boxer-shorts. However if you want to stay with panties, choose low-rise one that have a positive visual effect on the line of your legs and hips. Go for contrasting colors, for instance bright and patterned top combined with dark bottom.
The best cut for you is one-piece swim-wear, if you choose two-pieces, remember to buy a pareo, that helps you hide wide hips. Forget about bikini and thongs.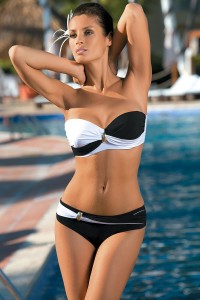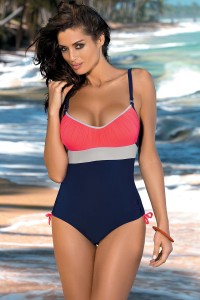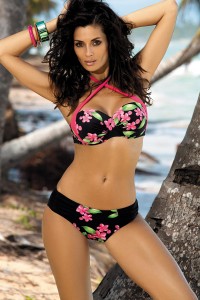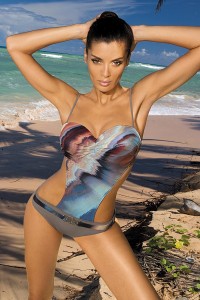 2 V SHAPE – also known as a triangle downward, for example Cameron Diaz
– straight arms
– ample bust
– narrow waist and hips
You are wider at the top, your silhouette tapers down.
To make your silhouette look more balanced and symmetric you should emphasize the lower parts of your body. For this purpose select the patterned and decorative bottom of your bathing suit combined with the simple top. The best choice when it comes to color selection is a dark bra and a bright panties. If you have a flat abdomen you can definitely buy a bikini. The most preferred solution for you will be a one-piece swimwear with a simple neckline and wide straps.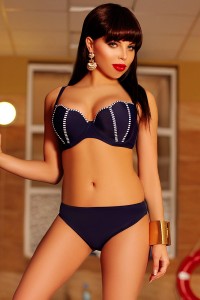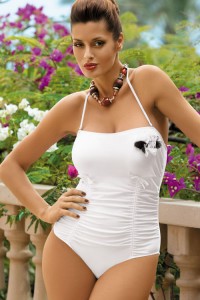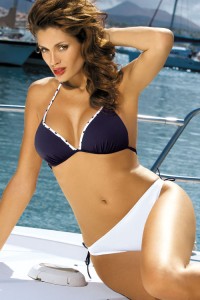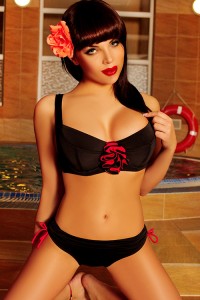 3 RECTANGLE – also known as banana or I shape, for example Gwyneth Paltrow
– shoulders, waist and hips of the same width
In this case our main purpose is to create curvy waist. To accomplish, select a one-piece swimsuit in dark colors, with cut-out back, patterns that emphasize your waist and plunge cups. An additional cut-out under your breast will enhance the bust line. Vertical stripes sewn to both sides of the swimsuit emphasize the waist. The perfect choice should be V-shaped panties Costume panties should be V-shaped with drawstrings highly bonded on the hips and bra with boning. Forget about the triangular shaped cups and a thong bikini. You can also enrich your beachwear with ruffles, lace, bows, etc…. They definitely enhance your bust and make your body look curvy and feminine.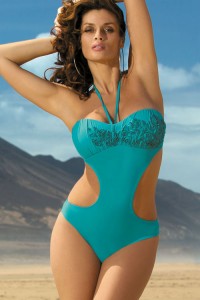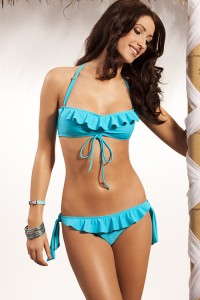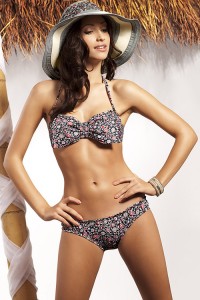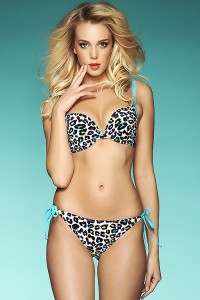 4 HOURGLASS – also known as X shape, for example Beyonce
– hips and shoulders are almost of equal size
– narrow waist
This is the figure type the most desired and loved by men – perfect, feminine, full of sex appeal silhouette.
Almost all types of beachwear fit you. Of course there are also some rules you should follow to look perfect. If you have an ample busy, don't forget to support it and select bras tied at the neck. For a smaller bust we suggest triangular shaped cups. will definitely preferable triangular bowl. Also, be careful choosing your bikini panties, take into account the size of your buttocks. The perfect selection for hourglass type is a classic bikini with a deep cut bottom. Select boy-shorts or briefs if you have long legs only.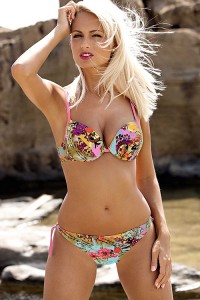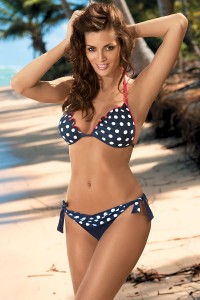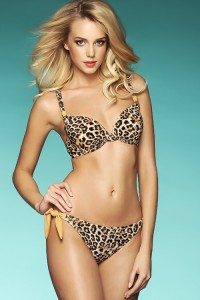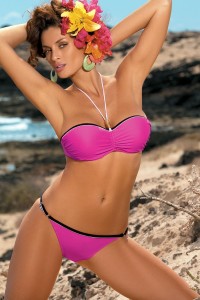 5 APPLE – for example Drew Barrymore
– rounded silhouette
– similar circumference of waist and bust
– narrow thighs and shoulders
– slightly rounded bottom
If you have slim legs and a large bust, then you can assume that you have an apple body type. You should wear a high-cut briefs, this might help to hide your tummy a bit. We definitely recommend plunge cups for smaller breasts that help to enhance the bust. Your beachwear might be designed with all kinds of patterns, but keep in mind that horizontal stripes and geometric shapes enlarge. Also, vertical stripes can help to extend your silhouette. For larger breasts we discourage low-cut and rounded necklines. Don't buy strapless swimsuits as well.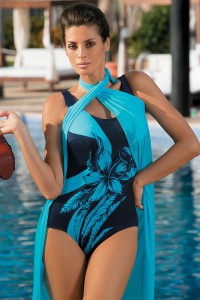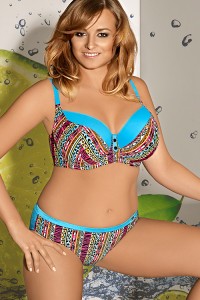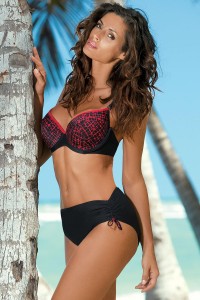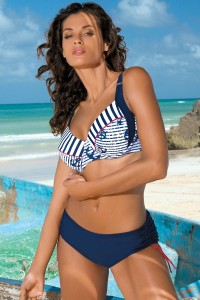 Happy Holidays!!!