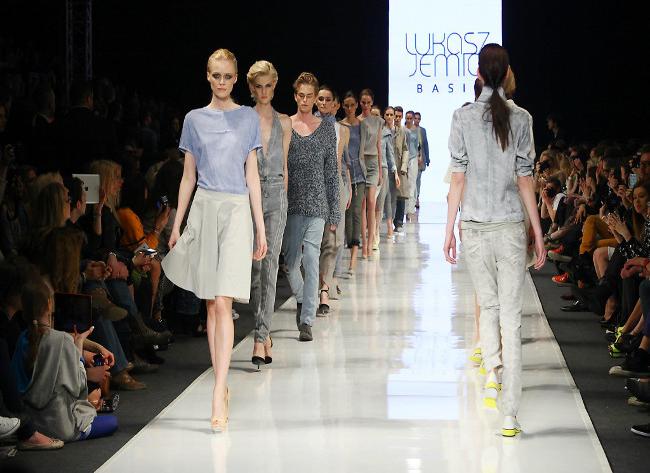 FashionPhilosophy – Fashion Week Poland 2013
There are several well-known fashion events in Poland (Warsaw Fashion Street, Sopot Fashion Days, Warsaw Fashion Weekend, Poznan International Fair, Wroclaw Fashion Meeting) but: FashionPhilosophy Fashion Week Poland is certainly the most important one. Held twice a year in Lodz, it attracts the best designers, fashion experts, special guests and many representatives of Polish and international media.
 This year April edition was the eighth one in the history of Fashion Week Poland (from 2009). It took place between 17th and 21st of April, 2013. Lingerose.com decided to take part in this fashion festival and appear in Lodz in person. So now we can tell you all about it personally. Enjoy!
Fashion Week Poland 2013 at Fashion TV
"Lodz City of Fashion"
As the FashionPhilosophy crew members say – Lodz is more and more fashionable nowadays. Tied to fashion industry for over a century, once an exclusive place for factories and heavy textile industries, now changes very fast. Twice a year the fashion capital of Poland, we can say that Lodz becomes the fashionable direction. And FashionPhilosophy itself is a great inspiration for the city to develop, bloom and give new opportunities to grow and create new trends.
On our way to Lodz we decided to drop into and visit one of the most famous manufacturers presented at Lingerose.com – Gatta. Its house is located close to that industrial area.
"Ladies and gentlemen…
…please take your seats now, this is FashionPhilosophy Fashion Week Poland" – that intro was repeated before every show which took place in Lodz during those four exciting days. Of course, we are talking about "Designer Avenue" here – that is the most desirable place to be during the whole event. On the very long catwalk all the best collections for next seasons are always presented there.
During this edition we could admire trends for fall/winter 2013-2014 of such well-known Polish designers as Łukasz Jemioł, Berenika Czarnota, Tomasz Olejniczak, Natalia Jaroszewska, Wiola Wołczyńska, Kamila Gawrońska-Kasperska and many, many more. There were also special quests from abroad invited: Yulija Hilevich for Fur Garden, Slava Zaitsev, Marta Wachholz – Biczuja, Rokosolana Bogutska. As for the famous brands, there were among the others: Mohito and Orsay – which was also the main sponsor of the event.
Every hour perfectly prepared shows on the main catwalk invited guests inside Designer Avenue. That was without any doubt the essence of Fashion Week Poland. However it was not the only attraction. The other scene – "OFF Out Of Schedule" – was dedicated to avant-garde and intriguing collections of young, adventurous designers.
Let Them Know – Concept Store – Showroom
The ideal complementation of Designer Avenue and OFF Out Of Schedule was another pavilion dedicated to passion for fashion – a big hall with Showroom and Concept Store. Several hundred square meters of clothes, shoes, bags and jewelry from the latest collections of independent designers and brands at our fingertips… Heaven for all fashion freaks. 😉 So you could not only check or buy some exceptionally original and unique pieces of Polish fashion in Showroom, but also learn more about the philosophy of each brand presented in Concept Store. As if that was not enough for some aesthetic senses, at the end of the hall there was an exhibition of young and talented fashion photographers, called simply: "Young Fashion Photographers Now".
"Let Them Know" – the last attraction of FashionPhilosophy to describe, was a series of annual lectures, seminars and professional training for designers, manufacturers, owners of clothing companies and marketing professionals. This edition's schedule consisted of lectures on social media, technologies, fashion photography in press, problems facing the industry and of course the latest trends – S/S 2014!
 Lingerie at Fashion Week Poland
Wandering along the alleys of the Concept Store, we were more than happy to discover the stall of our familiar lingerie producer there. Presented at Lingerose.com, KrisLine is a manufacturer of luxurious lingerie designed for ladies of every group age or size. You can find some sensual body corsets, plus size bras, comfortable and elegant panties or even men's tops in the offer of KrisLine Lingerie at our site.
Summing Up
Over 12 thousand guests from Poland and abroad. More than 47 fashion shows (including 35 in Designer Avenue and 13 in the zone of debuts and avant-garde –OFF Out Of Schedule). 30 thousand online followers of the shows. Beautiful, young and fresh or well-known top models. Celebrities – actors and actresses, singers, dancers and most famous fashion bloggers. All the most important fashion media from Poland and abroad (700 entries for media delegates!). Buyers and sales portals representatives. Fashion experts and fashion freaks at FashionPhilosophy.