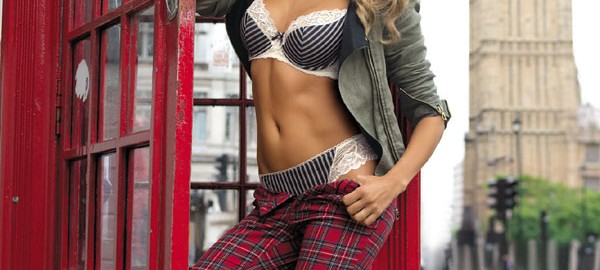 Today we want to present the latest collection of Kinga Lingerie. The Spring/Summer 2014 proposition has been inspired by London – one of the 3 European capitals of fashion and design, vibrant and truly multicultural megalopolis full of ideas and energy, the city where tradition meets modern lifestyle. The same is the Kinga's proposition, designed for admirers of the British chic.
To create final very unique and harmonious lingerie products, the designers used classic lace, geometric patterns combined with delicate pastels with resolute color. Changing British fashion over the past decades with particular emphasis on the 70's was the leitmotif of this collection, that consist of:
–         alluring bras
–         tempting briefs
–         seductive thongs
–         sensual baby-dolls
The current collection follows the latest lingerie global trends. Of course Kinga didn't forget about its own distinctive and standout style, creating subtle and feminine underwear products.
You can see the latest collection at the images below. Obviously, the photo-shoot was held in London and the most famous places like Buckingham Palace, Tower Bridge or London telephone booth are the background of the photos emphasizing British style. All the photos are just spectacular and amazing as the real lingerie products from this collection.