Read the previous part of Pinterest impact on Google
This searched term was related to the board "Sexy Lingerie Wholesale" where I pinned the photos related to erotic products offered in Lingerose.com.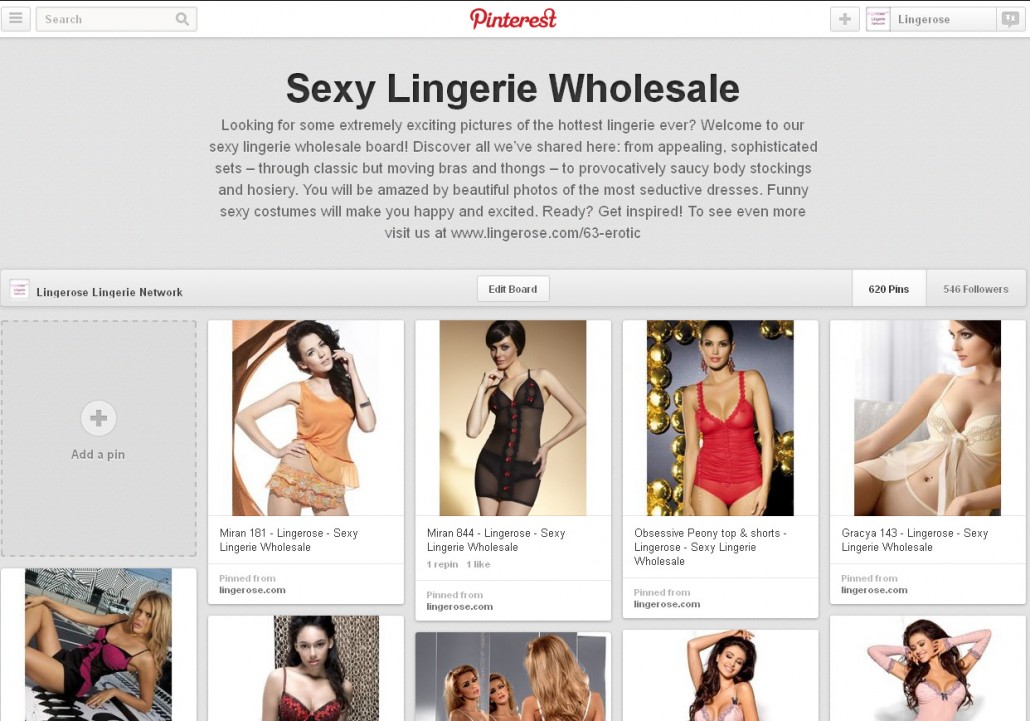 As you may see above, except the board name, I also included the keywords in the following board description:
"Looking for some extremely exciting pictures of the hottest lingerie ever? Welcome to our sexy lingerie wholesale board! Discover all we've shared here: from appealing, sophisticated sets – through classic but moving bras and thongs – to provocatively saucy body stockings and hosiery. You will be amazed by beautiful photos of the most seductive dresses. Funny sexy costumes will make you happy and excited. Ready? Get inspired! To see even more visit us at www.lingerose.com/63-erotic".
What's worth to mention is that I used a specific URL of the part of Lingerose dedicated to the erotic products' offer. All the pins added to that board leaded to that URL as well.
Below, I will analyze the query based on how the results were changing during the campaign.
29th of April 2013
The board was classified at the 29th position.
24th of May 2013
One month later the "Sexy Lingerie Wholesale" board was classified:
the United States – the 7th position
the United Kingdom – the 12th position
Ireland – the 6th position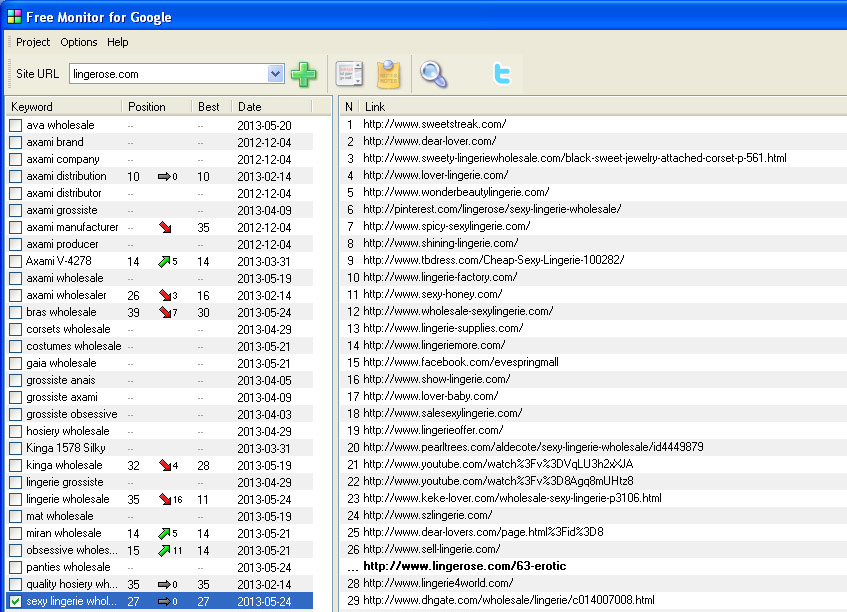 In Ireland also the researched URL was classified for the first time in the top 40 results, at the position 27th.
12th of June 2013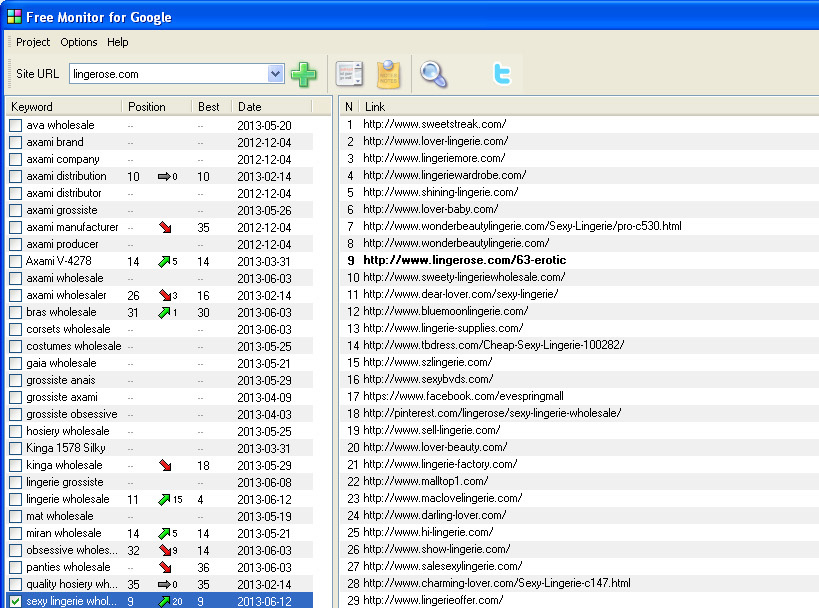 In the United States Lingerose's site was indexed at the 9th position and the board at the 18th position.
I also checked the results from Singapore:
Lingerose.com/63-erotic was even placed 4 and the board was placed 12.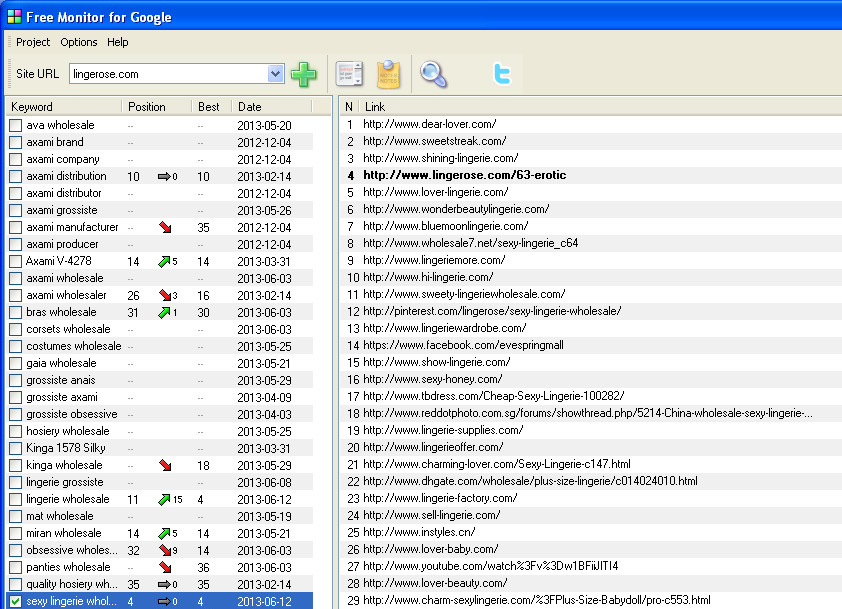 We may notice here a very similar process to that one how Google was indexing the Lingerose's results for the "lingerie wholesale" query.
First, Google indexed the Pinterest's boards, then – the Lingerose's site. The higher the site was indexed the lower the board was.
However, as many specialists claim, Pinterest uses unfollow links. Anyway, it seems like the Pinterest's board gave a juice or kind of its power to the Lingerose's site.
13th of July 2013
Checking the results in July, I discovered another increase of the Lingerose's site for the "Sexy Lingerie Wholesale" query in Google's SERP.
In the United States the site was classified at the 4th position and the board at the 17th.
In the United Kingdom Lingerose.com/63-erotic reached the first page of Google search results.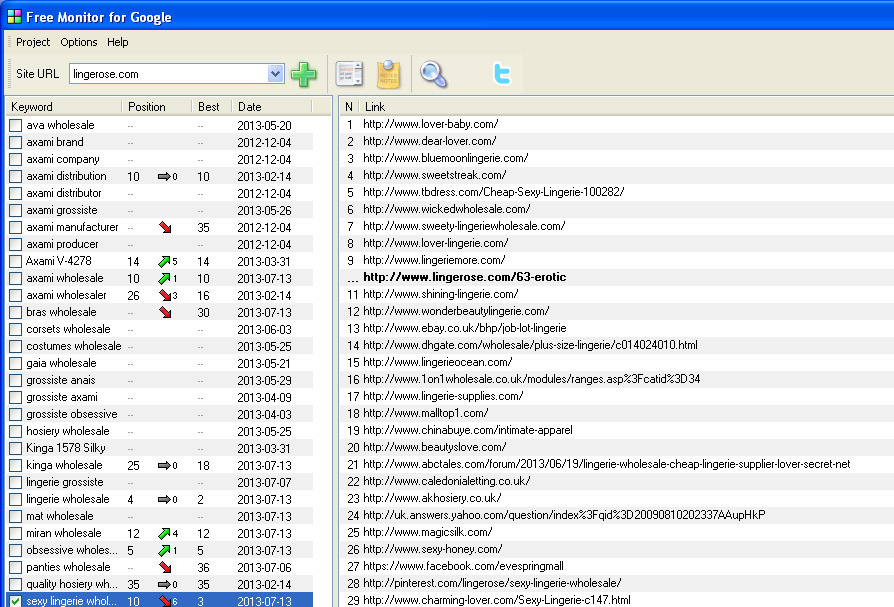 In the United Arab Emirates Lingerose was classified at the 3rd position and the board at the 19th.