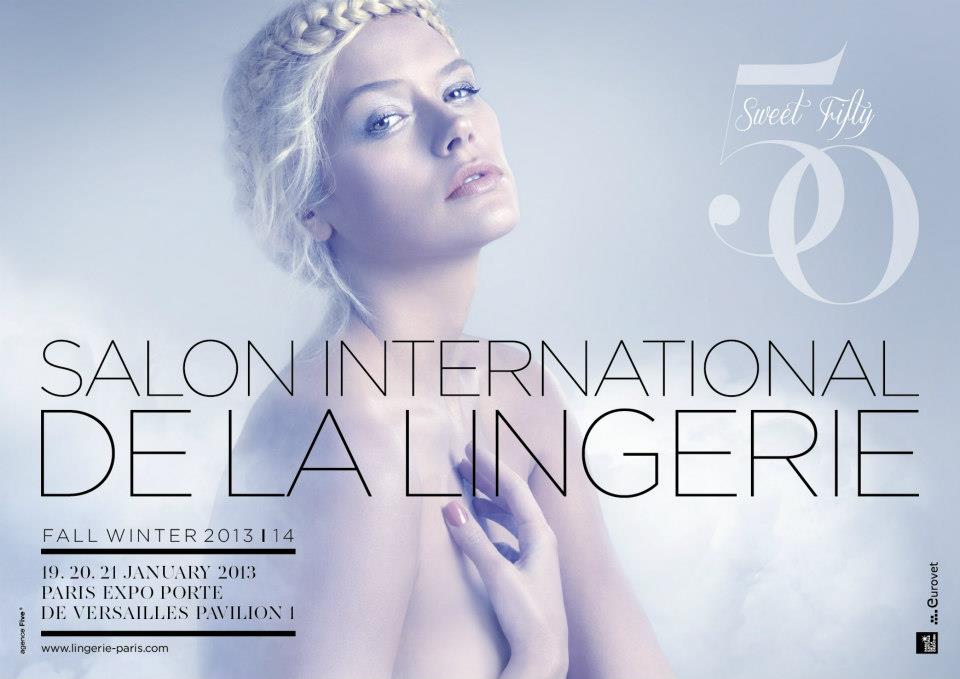 50 years of experience – followed by expertise, partnerships of real connoisseurs, raw elegance and atmosphere of creation in the air. The aura of passion and  glorification of the female beauty. Extravagance filled with the presence of living legends or new faces and young divas. All combined together in the romantic, almost magical, Winter scenery of Paris Expo Porte de Versailles.
Every year at the same time the trade show maintains its specific character of tradition and innovation, but this year it was not only the annual fair, but also – its 50-th birthday edition! From 1963 to 2013 Salon International de la Lingerie has become a distinguishing feast of fashion and this special birthday edition was no exception.
Held in Paris – the capital of international fashion market – between 19-th and 21-st of January 2013. Numerous fashion shows, selection guides, conferences and help of personal shoppers. Latest trends for season fall – winter 2013/2014. A fairy tale universe filled with luminous touch and a combination of ice, frost, snow – full of a pearly beauty. To quote the founders of this astonishing event – it is more than just a trade show, it is an emotion… A place where dreams of visitors and brands come true – just a  fashion fantasy.
This extraordinary January fashion fair consists of the following creative zones:
–          The Essentials – key lingerie and corsetry brands
–          Cocooning – homewear, loungewear and sleepwear for staying in
–          Designer Labels – luxury and designer collections
–          Limited Edition – young nightwear and homewear designers
In those specific 'fashion universes', located in different sections, brands from all over the world meet their future clients and the most famous lingerie wholesalers, producers, distributors and manufacturers launch and promote the newest fashion trends and meet the needs of their customers in person.
Lingerose.com is so proud to find in this international fashion environment as many as 10 producers whose lingerie has been presented on our website. Those are as follows:
– Ava
– Axami
– Gabriella
– Gaia
– Gorteks
– Gracya
– Julimex
– Kinga
– Mat
– Plie
Each of those brands deserves a closer insight to their stocks – to read more about the products please follow our subsequent articles. Back to topic of Salon International de la Lingerie – we can proudly assure our costumers, that the incoming season will be rich in demand for the products presented in French capital of fashion.